Model NO.: Magnetic Push Pins Neodymium Fridge Magnets

Size: D11X17mm

Color: Red, Green, Blue, White, Purple, Yellow, Pink.

Trademark: YYMAG

Transport Package: Shielding Packing/Common Packing

Specification: 1000pcs/carton; Carton size: 33x24x15cm

Origin: China

HS Code: 85051190

Hot Sale Colorful Plastic Magnetic Push Pins Neodymium Whiteboard Magnets

 

Magnetic Pins made of 1 piece strong Neodymium disc (disk) magnet and 1 plastic mold. The magnet is mounted in a plastic shell with an ergonomically designed plastic handle for ease of use.

Color and size of magnetic pin can be made by customers' requirement.
Product name:
Hot Sale Colorful Plastic Magnetic Push Pins Neodymium Whiteboard Magnets 
Material:
Plastic and neodymium magnet
Size:
Dia11x7mm.
Coating:
Plastic
Pull force:
Hold A4 on white board 11pcs
Color:
Red, green, blue, white, purple, yellow, pink.
Applications:
Booth construction, store construction, interior work
Bath and kitchen design
Cabinetry, furniture construction
Metal construction
Machine and plant construction
Lighting industry
 

These are wonderful items for homes, offices, schools, warehouses, restaurants, and others! One of those magnetic push pins can hold up to 12Â pieces of paper!

Super strong neodymium magnets are encased in plastics and have unbelievable holding power. They can be used to hold notes, time tables, flow charts, road maps, restaurant orders, etc., to any surfaces attracting magnets. These are fun items to have!

Please be careful with choking hazard, and keep those small items away from children of 5 years old or younger.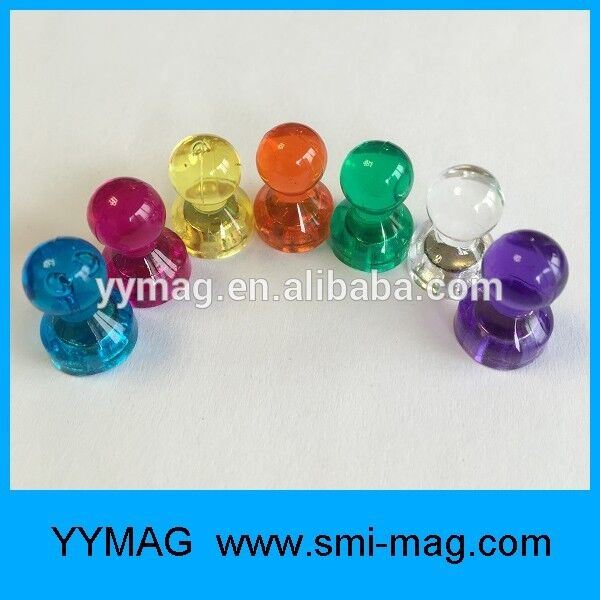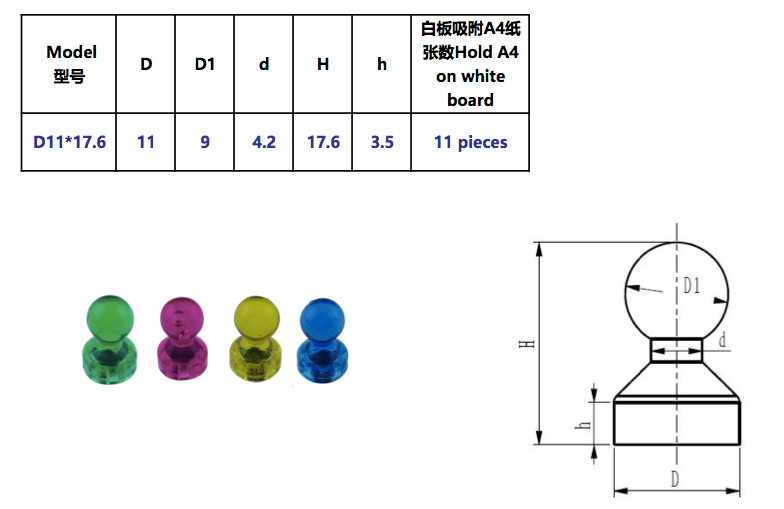 Magnetic whiteboard
Office cabinets
School lockers 
Magnetic whiteboard.



Packing

+By Air:Â If the goods will be shipped by air, all the magnetic should be degaussed and we will use Iron sheet to shield.
+By Sea:Â If the goods are will be shipped by sea, we will place a pallet on the bottom of cartons.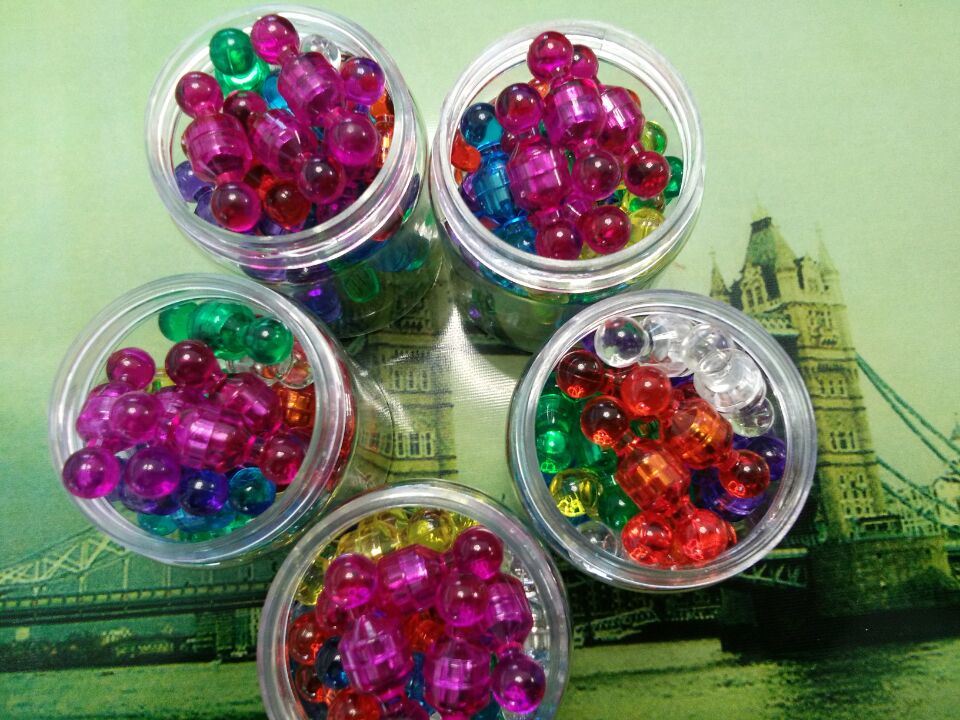 1:How long will you give me the reply?
we will reply you in 24Â hours.

 2:How about the quality of the magnets?
We have the certification of ISO, SGS, ROHS.

3:How is the price?
As we believe the quality is the most important, we will provide the high quality magnet with reasonable price.

4:Could I get samples?
Yes, we have materials in stock to help you to get the samples as soon as we can.

 5:How long will you deliver sample and bulk order?
If we have materials in our stock, we can send them within 3 days. If we don't have material in stock, production time for sample is 5-10 days, 15-25 days for bulk order.

6. How to pay you?
T/T, Western Union, L/C, Paypal.

Welcome to contact us!


Our Dome Lens is an optical window composed of two parallel curved surfaces. Dome lenses are commonly used in meteorology applications, pyranometers, defence applications and often used in high pressure viewports in underwater cameras and submersibles.For this reason our dome offer both high transmission as well as durability. Other application for our dome include visible-range domes for pyranometers and infrared-range domes for pyrgeometers, and as high pressure viewports in underwater cameras and submersibles.

BK7 or K9L domes are used primarily in meteorology applications. BK7 offers excellent transmission from 300nm up to 2µm. BK7 is a relatively hard material, with excellent chemical durability.
UV fused silica domes ( JGS1 ): For applications operating in the deeper UV range, we offers a range of UV fused silica domes. Fused silica domes are commonly used in underwater applications at extremely high pressures.
Sapphire domes: For infrared applications we can provide sapphire domes. Sapphire is an extremely hard material with transmission of over 80% in the 2-5µm wavelength range. As with fused silica, sapphire is able to withstand extreme pressures, making it the perfect material for underwater camera and missile fairing applications.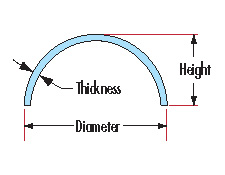 Specifiation of our dome lens as follow:
Material:Optical glass N-BK7 , H-K9L, UV Fused Silica, Sapphire, and infrared crystal materials.
Diameter:20-350mm
Diameter Tolerance:+/-0.1mm
Thickness:>2mm
Thickness Tolerance±0.2~0.1mm
Center Deviation:3-5'
Surface quality:80/50 60/40
Coating: Antireflection Coating inside
Chamfers:0.2 x 45° typical


300Mm Diameter Dome Lens,300 Mm Diameter Hemisphere Dome Lens,Glass Dome Lens For Camera,Dome Lens For Subsea Shooting

China Star Optics Technology Co.,Ltd. , https://www.csoptlens.com